Got Student Loan Debt? 

Stressed?  Overwhelmed?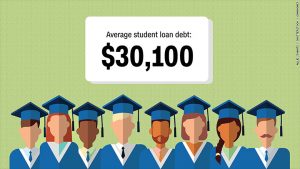 Borrowing money to pay for your college education is often the easy part.  However, choosing the best repayment options when you leave school can range from confusing to downright overwhelming.  Did you know that 7 in 10 seniors (68%) who graduated from public and nonprofit colleges leaves with a student loan debt load average of $30,100 per borrower.   Avoid the "Stress Trap" and get your "Student Debt Action Plan".
---

THREE (3) EASY STEPS:   Get Your "Student Debt Action Plan" Started Today!
STEP #1

:   Type your basic information and Federal loan information into the form below.

STEP #2:  After you answer approximately 25 questions tailored to your unique situation, you will have access to all of your qualified options including--potential discharges, repayment plans, rehabilitation and more.

STEP #3:   For a low fee of $69.95 you will be able to download your customized analysis--in minutes!  You can download all of your loan information via your National Student Loan Data System (NSLDS) website.  It's just that easy!
---
HERE'S HOW WE CAN HELP!
HELP CDC has partnered with Consumer Debt Counselors to provide student loan counseling services to borrowers who are overwhelmed by the many repayment options for Federal student loans.  Our counselors are trained to consider all debts and have knowledge of the various student loan programs and--more importantly--the repayment options available under each program.
---
ONCE YOU HAVE YOUR CUSTOMIZED REPORT...YOU DECIDE:
If you would like one-on-one help with your report, just log back onto the website to connect with a Student Loan Advisor for an additional fee.  --OR--

You can choose to complete the process on your own...just follow the specific instructions on your report.
---
BENEFITS OF WORKING WITH A STUDENT LOAN ADVISOR:
The Student Loan Advisor will analyze your customized report.

During your one-hour one-on-one session, the Advisor will help you evaluate your options as it relates to your financial goals and your budget.

The two of you will identify the right solution FOR YOU!

After your session, your Advisor will provide you with a customized report tailored to your specific circumstances, including:

FULL DESCRIPTION of your Selected Solution(s)

Items for Consideration


Detailed Steps to Implement Your Solution(s)
PLEASE NOTE: 
  * If you have private loans, you will need to speak with your loan servicer to discuss what options are available to you.
** Student Loan Counseling is a non-profit, fee-for-service program.